By Anjum Choudhry Nayyar
As a a mom who always looks for 'tools' to teach culture to my kids and talk about traditional holidays, I was so excited when I came across a book about Lohri that not only shared the story behind the bonfire festival, but also shared the story using rhymes.
The author, Parveen Kaur Dhillon is a Sikh-American who is passionate about spreading multicultural education through the celebration of various traditions and holidays.
She is the award-winning author of My First Sikh Books, a set of books designed to strengthen the pride and self-identity of young Sikh-American children. Parveen co-authored the curriculum for The Sikh Next Door, a multimedia, cross-cultural, educational project that provides a glimpse into the Sikh-American experience of children across the United States. She has also co-authored resources on bullying prevention and is active in multiple Punjabi community activities.
In "Lohri: A Bonfire Festival" moms get a chance to see how Punjabi is used to teach kids to read the Gurmukhi script. A Romanized Punjabi transliteration of all pages is at the end of the book to aid in pronunciation. It is a great book to present to families celebrating a marriage or new child in the family, bringing alive the old traditions of Punjab for the next generation of Punjabi families around the world.
When talking to Parveen recently she said she was inspired to write the book after years of teaching her kids non-Punjabi classmates about Lohri. "I realized that everybody has fun singing, dancing and celebrating Lohri The Bonfire Festival," said Dhillon. "Traditionally Punjabis use rhyme in celebration.  I wanted my book to feel the same way!   That is why I made it rhyming in both Punjabi and in English."
Through the eyes of  two main characters, Raakha and Ajeet, the book tells a story of their Lohri day from the second they wake up to the moment they go to bed sharing the preparation, excitement and celebration of Lohri. Dhillon says she chose the Lohri festival for the subject of her book for many reasons.
"I am passionate about strengthening cultural identity. One of the best ways to do this is to focus on what is fun about being Punjabi!   That is why I chose Lohri." She adds, breaking some South Asian cultural norms was also a goal "Within the Punjabi community, many people began celebrating Lohri only when a son was born.  In this book we show the importance of celebrating happiness for both our daughters and sons."
She says the book is meant for all ages.
"Lohri is celebrated by families who have newlyweds, new baby girls and boys, or anything new in the last 12 months that they are excited about!   This book is for all of them."
Dhillon says she believes South Asian parents today need to see diversity in books and need more tools to help them with kids.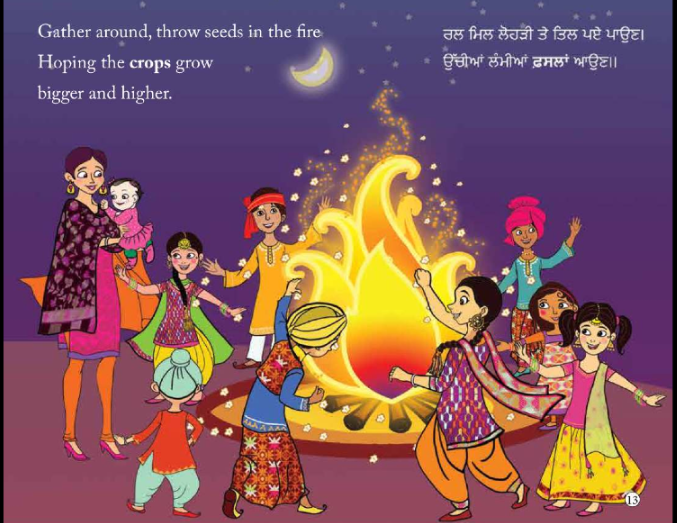 "I think this next generation of American and Canadian born Punjabis need new forms of media to help them appreciate the power and value of their culture. We are beginning to see more content for this audience and feel that much more could still be created," said Dhillon. "I actually wish I knew more about Lohri growing up in America.  The older I got, the more fascinated I became with this celebration.   I became most excited about the celebration of Lohri as a newlywed—the phulkaris, the energetic singing and the ability for the bonfire to bring all of your friends and family together!"
But getting diversity into multilingual books, she says still has a ways to go.

"Distribution of ethnically enriching books for all South Asian communities is difficult. There are many more topics that can be covered in creative ways but getting the word out about them can be difficult.   That is why we appreciate all of your efforts at MasalaMommas to inform the South Asian community."
Dhillon is currently working on other topics that share and introduce our South Asian culture to both the next generation as well as the non-South Asian audience.
So where can we buy this book?

"We are really excited that our publisher, Mascot books will be making Lohri The Bonfire Festival available at Amazon, Barnes and Noble, Books a Million and Costco. Right now it is available on Amazon and  Currently they are shipping to the US and Canada.
Masalamommas readers can use the promo code Masala for a discount here: http://Bit.Ly/LohriBook

Did you miss our twitter chat on Lohri with Parveen? Check out the transcript of our twitter chat with her below!
©masalamommas and masalamommas.com, 2016-2017. Unauthorized use and/or duplication of this material without express and written permission from this site's author and/or owner is strictly prohibited. Links may be used, provided that full and clear credit is given to masalamommas.com and Masalamommas online magazine with appropriate and specific direction to the original content.
(Visited 2,868 times, 1 visits today)
---
---
---