This post was sponsored by Heritage Heroes but opinions are my own.
"Mom, how many years did you spend in University to become a journalist?" asked my daughter Annika.
Surprised by the question, I said, "I did my four-years undergraduate degree then I went to grad school for my master's, hun. You can do whatever you want and whatever you put your mind to."
"Mom, I want to be an author; how many years do I have to go to university for?" she asks.
As I have these conversations as the years go by with my now 11-year-old daughter, I start to think how many years I have to save for her university journey and it gets daunting… and, well, slightly stressful. My parents started contributing to my RESP when I was 18, and today I am grateful for that investment. I was able to get my undergraduate degree in biology and a master of science in journalism which gave me the tools to launch my career in health journalism decades ago.
A Registered Education Savings Plan, also known as an RESP, is a savings plan used by parents to help them save for their children's post-secondary education in Canada. With the rising costs associated with sending a child to college or university, an RESP can really help because the government provides grants* while the savings grow tax-sheltered until withdrawn. When the student withdraws the funds for educational purposes, the withdrawals are taxed in the student's hands, typically at a lower rate.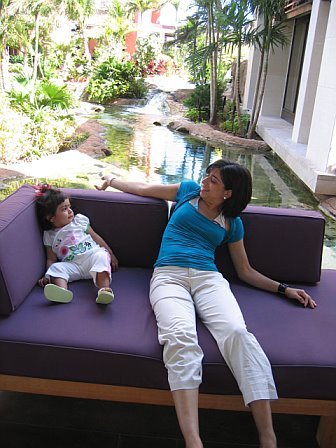 When Annika turned 1, my parents gave us a substantial nest egg to get her RESP started and we began building on it ever since. Annika now has a head start but we haven't quite gotten around to do the same amount for my son yet. Expenses come and go but we're slowly building toward it. It's a really gratifying feeling to know that you've got your child's education covered. That there is a nest egg there that will help carry them through. Many of us have grandparents and uncles and aunts who often give birthday gifts, Diwali or Eid gifts that are cash presents. We have generally taken a portion of each gift and kept it aside over the years to build toward our RESPs.
For many of us masalamommas, after mortgage payments, car payments and other expenses, there isn't much left for RESPs.
Heritage Education Funds, one of Canada's leading providers of group RESPs has been helping families save for the post-secondary education of their children for over 50 years. Heritage has representatives across Canada who have helped enroll over 455,000 Canadians in RESPs. Subscribers include parents, grandparents, family members and family friends across Canada.
In celebration of Canada's 150th birthday, Heritage Canada has launched a Heritage Heroes Campaign, which are a series of in-depth features (coast-to-coast) – a digital campaign encompassing a series of interviews, videos and stories – on recent and not-so-recent grads that have used a Heritage RESP to kick-start their careers without being mired in student debt.  
If you watch this inspiring campaign, it's not only motivating for parents but also for kids. As the parent of a sixth grader and third grader, which mom wouldn't want their child to grow up to be like one of those stars in the videos?  
If there's one thing you can learn from their stories it's that you can take the stress out of that 'daunting feeling' you may get talking to your kids about their dreams and aspirations. You can empower yourself to learn more about what you need to kick-start their journeys, one birthday and year at a time.
To learn how you can start your RESP or understand more about its long-term impact on your child's education follow #HeritageHeroes and @HeritageFunds on your Twitter feed.
©masalamommas and masalamommas.com, 2016-2017. Unauthorized use and/or duplication of this material without express and written permission from this site's author and/or owner is strictly prohibited. Links may be used, provided that full and clear credit is given to masalamommas.com and Masalamommas online magazine with appropriate and specific direction to the original content.
(Visited 486 times, 1 visits today)
---
---
---