It's a new year for them in a new school, new teachers, new friends, new classroom for kids, but it's also a new school year for us moms. Many of us are now finally in a routine after back-to-school prep and we probably are just running on autopilot. For me, these last two months have been so refreshing to see my kids love their classrooms, their friends and their new school. Getting them to school on time, volunteering at their school as much as I can and staying on top of clients and my work with our writers at masalamommas is an important juggle.
I don't know about you, but the focus for back-to-school shopping often neglects to include things that we moms need to survive the school year. So I thought I'd share some of my favourite picks for the masalamomma on-the-go this week as we gear up for the middle of fall. Some of my favourites include items that not only make your day on-the-go easier but also make you feel good while being a mom as well!
Here are some of my 10 favourite must-haves!
1) Cross body cell-phone holder
Retailer: bandolierstyle.com
I actually saw this on a mom carrying a baby and pushing a stroller at a restaurant a few months ago, and kept staring at it until I asked her where she got it from. She mentioned it was a Bandolier. this nifty gadget transforms your iPhone into a piece of wearable technology and is great for anyone who has lost their phone in the depths of that handbag while juggling kids. Stylish, smart and fun, this phone accessory is awesome for moms on the go.
Each Bandolier features two slots to accommodate credit cards, driver's license and/or cash for true freedom from the necessity of carrying a handbag.
 Oh and it can take pictures without removing the holder, just click and wear!
2) Something to Get Organized:  Dejaview Calender
It was developed by a Toronto mom, who has partnered with Time of Day Inc for production.
Day Ja View – the organizational hub for your home – has customizable features such as:
•       a unique plastic overlay that is transferable month to month eliminating the need to re-write recurring activities
•       colour-coded and personalized stickers for family members to track their own activities
•       space for key phone numbers and important information for caregivers or extended family members
This family-friendly calendar allows the whole family to get involved with time management and teaches responsibility to kids by allowing them to get involved in their own scheduling.  It's attractive, tactile and simple, yet, highly functional!  Perfect for starting off the new school year right for $26.95 online.
It's available for online purchase at timeofdaycalendar.com.
3)  A little bling: Sanskrit Necklace
First off…I LOVE these necklaces, I love how delicate they are and I love their sentiment.
Priyanka Chopra made these necklaces famous after she instagrammed herself wearing them. Rosena Sammi, the maker and name behind these necklaces says Priyanka owns all seven of them,  Bliss, Hope, Promise, Wish, Lucky, Beloved, and her name in Sanskrit. There's nothing wrong with adding some feel good jewellery to your back to school list, is there? I'm hoping to grab one of my own this week…
In this pic you'll see  the Bliss (nirvanam) necklace written in Sanskrit. As seen on Lindsay Lohan and Hilary Duff, and as featured in People Style Watch and Star Magazine.
Ranging between $60 and $220, these necklaces are available on heron the Rosena Sammi website which ships to most locations around the world.
4) Coffee Maker that Rocks: Keurig 2.0
I got acquainted with this fab coffee maker at Blogher14 in San Jose recently.
I got a chance to actually take one for spin at home too after Keurig sent me one to try out. In my home, my husband is a bit of a coffee snob and we have a Nespresso machine already.
I have to say I like the Keurig 2.0 much better than any other coffee maker we've ever had. For several reasons: it's faster to heat up, it allows you to make a full pot of coffee, it's so easy to use and it's flexible to your needs! 1 cup? 3-4 cups? 4-6 cups? No problem! It does it all at once.
Biggest pet peave I have with coffee makers is ease of use and luke warm coffee.  The Keurig 2.0 actually senses what you want and preps itself based on that too! The coffee tastes really good, it's hot just the way I like it and you get a variety of flavours. Get yours for $179.00 and up.

5) Chai to go:  For my afternon pickups and my my meetings I rely on tea to get me through the hours. I love my coffee in the morning, but when it comes to tea, it's got to be the right flavour on the go. We've talked about Tea India on our site before and I can't say enough about the ease of use of the Chai moments packs to make a really flavourable cup of tea. When I'm on the -go- having to make chai masala fresh is a bit of a chore. I save the grinding of masala chai spices for the weekends when I have the time. Chai Moments has 4 different flavours Milk Tea, Masala Chai, Ginger Chai and Cardamom.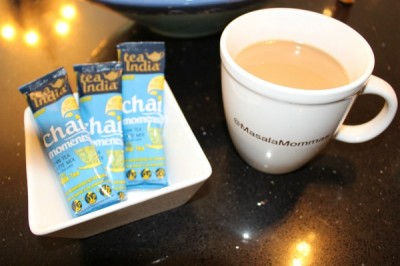 6) Battery Juice On the Go: Ok, so I tweet…a LOT. I also love my apps to do everything from scheduling, editing video, pictures, providing language tools for kids and so much more.
I discovered the Mophie when I was travelling to BlogHer last year and to this day this mobile battery pack is a lifesaver.
The powerstation mini provides as much as twice the battery life to your smartphone. It is small enough to fit in your back pocket, or purse but packed with enough power to keep your phone fully charged through the day.  The mini's high-current, conversion efficient battery can recharge your device at super-fast speed—more than 2 times faster than traditional USB batteries. It's compact enough to fit in the palm of your hand, so you'll never have to leave it behind when you head out.It is so awesome for travelling and you can charge it while it's in your purse or work bag too! The USB extention for charging fits into any USB station in your car or laptop for easy charging on-the-go.
At $59.95 it's money well spent. It's available online and at most electronic stores as well.
7) Something to stay calm: Yoga Studio App:
Fitting anything into my day that isn't work or kids can be so challenging…I've been looking at ways to fit in 'me-time' into my daily routine for months now. Sometimes you just need to find the simple things to start 'doing it' and then move on from there. That can be said about exercise too. I love apps and I recently found Yoga Studio App to start foraying into yoga and making it part of my routine…Sometimes I'm not always diligent in fitting it into my day, but this app helped me start the process and who knows maybe I'll like one kind of yoga and just go try it out at the yoga studio. Until then I'm happy to try it out at home with this app. The classes live on your phone and you can try them anytime you want.
Yoga Studio includes 65 ready-made classes. Choose your level (beginner, intermediate or advanced), duration (15, 30 or 60 minutes) and focus (strength, flexibility, relaxation, balance or combination) to find the perfect class for you. All the classes come with full HD video and teacher commentary that's clear and easy to follow.
It's got: 
24 hours of ready-made HD video classes
✓   Create unlimited custom classes – with full video
✓   Stay on track with class scheduling
✓   Over 280 poses with detailed info and advice
✓   Perfect for beginners,  awesome for experts
✓   Developed and performed by a qualified instructor
✓   Works on iPhone, iPad and iPad Mini
Download yours for $3.99 at the app store.
8) Something for the kitchen: I saw this at a friend's house and immediately asked her where she bought it. Love this for roti making non-stick no fuss, no muss silicon pasty mat. While roti-making can take time, what takes longer for me is the clean-up of the mess after! I love this mat because it takes care of the mess, and keeps it to a minimum.
Roll out pastry dough like a pro with this silicone mat. The slip-proof mat works well for rolling out piecrusts, cookie dough and other pastries. Handy measurements along the edges also guide you in shaping pizzas, flatbreads and free-form tarts.
Made of flexible silicone, which is nonstick, easy to clean, and nonabsorbent.
Includes guides for rolling out pastry dough in several diameters.
Inches also marked along edges.
Rolls up for easy storage.
Get it at William-Sonoma for $19.95
9) An Arm Pleaser
I don't buy purses very often as I usually save up for shoes (my weakness) and just ask for purses as gifts from family on my birthday….(hint, hint to my husband reading right now). I stumbled upon popinjay in twitter travels and really love the mission of the company and just love the unique purses and handbags. There's got to be a purse in every mom's wishlist,  right? Their clutches are great for that night out on a crisp fall night with friends.
Favourite clutch I'm crushing on right now: Baracoa Zip Clutch $205
10) Accessory for meetings:
I love India Circus. I've often looked to India Circus for decor tips and ideas but they really have a vision on everything. Who would have thought you could make your meeting documents look this good! Love these, and they make a great gift for any working momma on your list!
It's an inexpensive buy and so fun at $34. Here's where to buy: indiacircus.com/world/accessories/document-holders
This post was not sponsored and reflects my own personal views only.
I will be sharing some of my favourite things each season and from time-to-time so I'd love to get your tips and ideas! Send me your favourites !
©masalamommas and masalamommas.com, 2016-2017. Unauthorized use and/or duplication of this material without express and written permission from this site's author and/or owner is strictly prohibited. Links may be used, provided that full and clear credit is given to masalamommas.com and Masalamommas online magazine with appropriate and specific direction to the original content.
(Visited 315 times, 1 visits today)
---
---
---