Gifts Under $50 for the Bakers and Dessert Lovers in Your Life
As an avid baker, I love receiving baking related gifts. While there may be a shortage of space in my kitchen, there is no such thing as a shortage of baking related supplies. If you have a baker in your life, a baking-related gift is sure to leave them happy. Who knows, they might even make you some homemade goodies in return!
Cookbook: Bon Appetit
In the age of the Internet, cookbooks are often underappreciated but an avid baker will appreciate a cookbook with classic recipes. Bon Appetit is a classic because it covers all desserts, from cookies to cakes, this is a wonderful addition to any bakers' cookbook collection.
Price: $43.66
2. Apron
There are two kinds of bakers, ones that wear an apron and ones that wipe their doughy hands on their shirt. If your baker friend appreciates aprons, it is likely that they are due for a new apron. This rivera floral vintage apron is sure to make any baker feel fabulous when they are covered in flour.
Price: $49.99
3. Marble Rolling pin
While the baker in your life likely has a rolling pin, a marble rolling pin not only makes a beautiful gift but is also functional. The marble is naturally cool and heavy, making it easier to roll out dough with sticking.
Price: $29.00
4. Cake Decorating Set
If the baker in your life also enjoys decorating or maybe is interested in learning how to make their baked goods look more asthetically pleasing, this cake decorating set is the perfect gift. This kit comes with 36 piping tips, a pattern chart, storage container, 12 piping bags, and other decorating tools.
Price: $26.99
5. 3-Tier Serving Tray
This 3-tier serving tray is perfect for bakers that also enjoy hosting guests. This tray can be used to serve desserts but also savoury baked goods and appetizers.
Price: $39.99
6. Cake Knife and Server Set
Cake makers will appreciate this high-quality Oleg Cassini 2 piece Knife and Server Set. For an extra special gift, pair with the cake dome below.
Price: $36.99
7. Cake Dome
This 6-in-1 cake dome is a multi-functional server so that the baker in your life can use it as a punch bowl, dip server, salad bowl with veggies, a cake plate or more.
Price: $24.99
8.Cookie Cutter Kit
If your baker friend enjoys making sugar cookies, give them a festive gift of a cookie cutter kit. This kit includes 5 Holiday themed cookie cutters, red sprinkles, cellulose paper, and stickers to wrap your cookies. This is a great gift to give baker moms so that they can bake and decorate sugar cookies with their kids.
Price: $29.99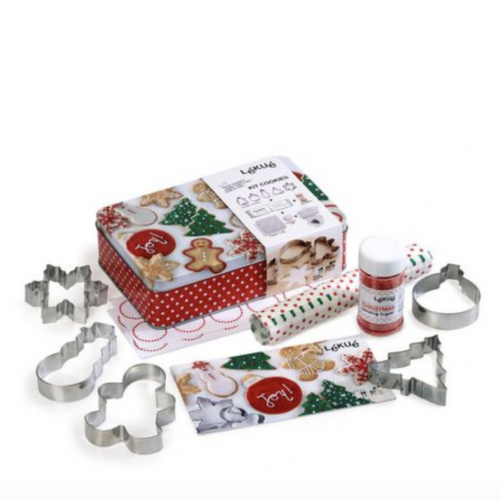 9. 3-Tier Cooling Rack
The great thing about bakers is that they are often baking for others, which makes this 3-tier cooling rack very handy. Instead of trying to find counter space to cool a variety of baked goods, this rack solves a busy baker's problems.
Price: $26.00
10. Measuring Cup/Spoons and Mixing Bowl set
While most bakers have a kitchen stocked with measuring cups, spoons, and mixing bowls, they will appreciate a fresh set of stainless steel supplies. This 12 piece set includes 3 mixing bowls, a whisk, and a set of measuring cups and spoons.
Price: $34.50
©masalamommas and masalamommas.com, 2016-2017. Unauthorized use and/or duplication of this material without express and written permission from this site's author and/or owner is strictly prohibited. Links may be used, provided that full and clear credit is given to masalamommas.com and Masalamommas online magazine with appropriate and specific direction to the original content.
(Visited 220 times, 1 visits today)
---
---
---