By Nazima Qureshi
Muslims celebrate two Eids each year, with one of the Eids signifying the end of Ramadan. As Ramadan concludes next week, Muslims are starting to prepare for Eid celebrations. The upcoming Eid is also known as Eid-ul-Fitr. Eid starts off with a morning prayer followed by visiting family and friends. Considering it is a celebration after a month of fasting, Eid-ul-Fitr includes lots of food!
For those of you fasting during the month of Ramadan, you may be braving through your last few fasts while also thinking about upcoming Eid preparations. While all Muslims celebrate Eid together at morning prayer, Eid traditions vary by family. One thing everyone can relate to is that there will be lots of family, food, and fun!  Regardless of your family Eid traditions, it can get overwhelming trying to plan the perfect Eid for your family in the last few days of Ramadan.
To simplify preparing for Eid, use this go-to guide with some great ideas, complete with home décor and gift ideas for the kids.
Décor
Changing up your home décor is an easy way to get the whole family in the spirit of Eid. This year, choose from two looks.
Look 1
This look is perfect if you are looking for something classic. The soft colours, floral patterns, and lace accents will make your guests adore your sense of style.
Start off by adding a tablecloth, which is an easy way to give your dining area a new look. The Romance Collection tablecloth is a stunning grey with a Victorian-style lace border.
The Cirque Dinnerware set complements a traditional Eid look. The floral design has a South Asian flare and is reminiscent of henna designs.
Lanterns are a fun décor item to create a festive look for Eid. Use these candle lanterns in your dining area or around the house where you will be entertaining guests. The cut out floral design of the lantern compliments the floral pattern of the dinnerware set. Purchase these online here.
Look 2
This look is bright and highlights fun summer colours. Not only will your guests appreciate the pop of colour, the kids will also be excited to see this bright coloured theme throughout the house.
Start off with a crisp white tablecloth, which will serve as a simple and sleek background to make the colours pop.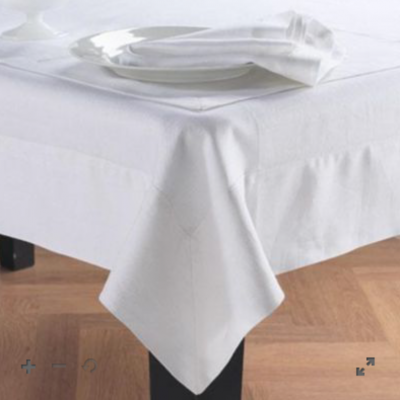 Go bold with your dinnerware with this Amalfi Dinnerware set. Even if you don't make any other changes to your décor, this dinnerware set will brighten up your whole dining area.
Keeping in line with the theme, this string of colourful lanterns adds a festive touch to your Eid celebrations. Make an "Eid Mubarak" banner with the kids and add this string of lights to the main wall of the house.
Whether you are having a sit down dinner or having many guests over for light refreshments, using matching serving dishes can make your menu stand out. Use white serving ware to match any décor theme.
A huge part of making Eid extra special for the kids is by giving gifts. As the school year ends, look for toys that your children can enjoy all summer long. Select toys that help your children bring out their creative side.
Building sets
Building sets are a favourite amongst children, regardless of their age. Go for a classic blocks set for the younger children. Choose from a variety of block set themes to suit your child's interest, such as "Shimmering Palace".
Older children will love spending hours building their own K'nex 'Supernova Blast' Roller Coaster.
Do you find your kids interested in kitchen items or tools? Watch your child's eyes light up when s/he is surprised with a play kitchen or workbench!
Kitchen:
Workbench:
Arts and crafts are a versatile gift option for any age. This knitting machine will allow kids to knit their own scarves, mittens, and hats, without the hassle of using a needle. Check out where to buy it here.
BLOpens are a cross between markers and paint with a fun twist. Children blow into the BLOpens to get a spray paint effect and can use stencils to create designs.
How will you be celebrating Eid this year? Share your family Eid traditions with us by tagging us @masalamommas  and @NutritionbyNaz on Instagram and Twitter.
This post was sponsored by Sears Canada.
©masalamommas and masalamommas.com, 2016-2017. Unauthorized use and/or duplication of this material without express and written permission from this site's author and/or owner is strictly prohibited. Links may be used, provided that full and clear credit is given to masalamommas.com and Masalamommas online magazine with appropriate and specific direction to the original content.
(Visited 679 times, 1 visits today)
---
---
---