It's all about 'Athleisure' this Summer: comfortable but professional too

As part of the Disney Social Media moms celebration, we were thrilled to hear from celebrity stylist Lara Backmender,  who spoke about summer trends as  part of the presentation from Hanes.  We also had a chance to do a one-on-one interview with her! She's styled some big names including Demi Lovato, Hayden Panetiere, Jessica Simpson, Katy Perry, Kylie Minogue, Lucy Hale, Miley Cyrus, Naomi Watts, Nina Debrev, Reese Witherspoon, Scarlet Johannson, Taylor Swift, and has even consulted on brands like Kate Spade.

One of the key trends that emerged from her presentation was the 'athleisure' look. What's that you ask? Get this: it's the yoga pants look for work! Yes, moms, you can make it look professional.  Here's how! Listen to Lara explain:

[vsw id="wpcfHfSz5Lw" source="youtube" width="425″ height="344″ autoplay="no"]

"When I'm in LA, I always see women leave a yoga class in the morning then run up to grab their kids, then go to a luncheon at work  in their yoga pants," said Backmender. "Now there's a merge between 'athleisure' and looking good."

She suggests pairing a pairing the yoga pant look with a jersey blazer or even a t-shirt underneath.

" I love the idea of dressed up-dress down. So you have tailored item with paired with something athletic. I think there's a right way to do it.

Tip: Wear the look with a black flat, or sneakers.

She also spoke about her love for the style of Bollywood and India. "I have been all over the world, but I particularly love Indian style and design. I love Bollywood costumes and I love the colour. I'd love to be able to get my hands on the fabrics from there," said Backmender. "I would be a like a kid in a candy store!"

Watch more below:

[vsw id="B-CLzSO8QVk" source="youtube" width="425″ height="344″ autoplay="no"]

Lara styled up 5 different summer looks for audience. Here are our favourite trends for this summer from Backmender and Hanes:
A Metallic Skirt paired with a t-shirt. Dress this look up with heels or dress it down with flats or sneakers.
        2. White and more white of different lengths
      3. Get Floral: Floral pants are everywhere and paired with a bright solid can be great dressed up or dressed down
      4. A fab slip dress with contrasting hat and bag.
 5.  Remember the off-the-shoulder top? Yup, masalamommas, you can do it with a great comfort pant like the one in this pic.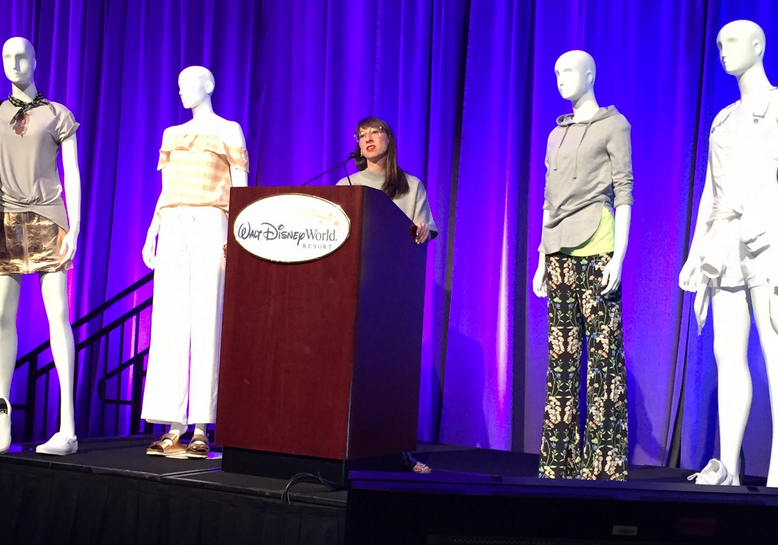 What do you think of these looks? Share your thoughts below!
Disclosure: The Walt Disney Company invited me to attend the Social Media Moms Celebration and I received gifts and special opportunities as part of the conference. All opinions are my own.
©masalamommas and masalamommas.com, 2016-2017. Unauthorized use and/or duplication of this material without express and written permission from this site's author and/or owner is strictly prohibited. Links may be used, provided that full and clear credit is given to masalamommas.com and Masalamommas online magazine with appropriate and specific direction to the original content.
(Visited 246 times, 1 visits today)
---
---
---