By Aarti Chandnani
Hindi Gym will be a regular part of our culture section as we at masalamommas.com bring more resources on teaching your kids about Hindi and South Asian cultural occasions. Stay tuned right here for more from HindiGym!
******
Makkar Sankranti is a Hindu festival that is celebrated all over India in various ways. It is one of the few Hindu festivals that always falls on the same date i.e. 14th January.  In Sanskrit, an ancient Indian language, the word Makkar refers to the zodiac sign of Capricorn, and Sankranti means the movement of Sun from one zodiac sign to another. Hence Makkar Sankranti is celebrated when Sun enters Capricorn.
Makkar Sankranti is a harvest festival dedicated to the Sun. It is believed that on this day the Sun starts it's northward journey (Uttarayan); marking the end of Winter and beginning of new Spring and harvest season. After this day the days start getting longer and the nights start getting shorter.
Hindus regard this festival as a beginning of a new auspicious cycle. It is a festival of new beginnings, new resolutions and new commitments – a true Happy New Year!
The festival is celebrated with great enthusiasm in every state in India. Every state calls the festival a different name and celebrates it in it's own unique way. People in North India called it Lohri.  They light a bonfire at night, and sing and dance around it. People in the West fly kites on this day and have kite flying competitions. People in the South call it Pongal. They make sweet and savory rice dishes and kids chew on sugarcane. People all over India eat sweets made of sesame seeds and jaggery on this day.
This is a wonderful festival to share with your kids and a great opportunity to introduce them to Indian culture and words in native language! HindiGym has put together a few kid-friendly activities that you can share with your little ones to spread the joy of celebrating the wonderful day and new beginnings!
Simply print and use. You can download all activities at: www.hindigym.com/blog/makkar-sankranti-mubarak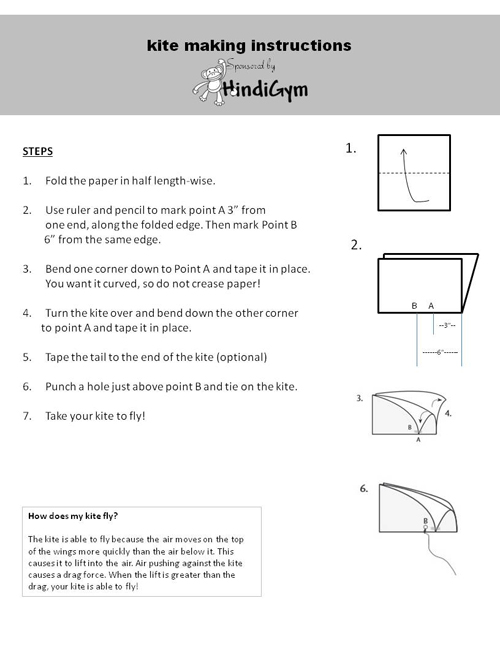 More about Aarti:
Aarti Chandnani, is the founder of HindiGym, author and publisher of kids books, a software geek, lover of all things Indian, an ayurvedic student and a mom to two adorable kids. Among many things she loves to spend her time teaching kids Hindi and about Indian culture. She is also currently working on bringing Hindi learning to the app world.
Learn more about Aarti's work at HindiGym.com, Follow Aarti @HindiGym and on facebook: www.facebook/HindiGym

©masalamommas and masalamommas.com, 2016-2017. Unauthorized use and/or duplication of this material without express and written permission from this site's author and/or owner is strictly prohibited. Links may be used, provided that full and clear credit is given to masalamommas.com and Masalamommas online magazine with appropriate and specific direction to the original content.
(Visited 3,958 times, 1 visits today)
---
---
---