By Deb Trombley
How to Make Your Holiday Table Feel Special
Holidays give us a reason to turn up the glam and glitter in our homes. This can be used as an excuse to take the extra time and attention to make mealtimes special. It's way too easy for life to get busy, right? At our house, I hate to admit that sometimes we cook and then eat still standing around the kitchen island! Then we clean up fast and scatter around the house for the rest of the night, doing our different activities. But holidays are a good time to reconnect, to linger over a meal, to slow down and enjoy ourselves. Isn't that a great gift to ourselves and those we love?
If the table feels special, that can help us to linger at the dining table and talk and connect. That's why I don't think of decorations as only frivolous things. They help to build a feeling. And that feeling helps put people in a good mood and makes them want to hang around and have a wonderful time. You might hear stories that everyone will remember for a lifetime. Funny things might happen that you'll laugh about when you gather together again next year. Those are the things that matter. And creating the right setting can help make them happen.
As an example, while scrolling through my Facebook feed, this pretty dining scene shared by Serendipity Delhi made me stop:
It has all the elements that make a table special for holiday entertaining: florals, candles, color and some "bling" in the gold and silver metals. There's a mix of materials too: wood, glass and metal. If your tableware isn't super colorful, do what they did here and bring in some temporary bright colors with flowers and petals. That's an easy, inexpensive and pretty way to add color.
Here's a close-up of one of the table elements from Serendipity Delhi:
Metals like silver, gold and copper help make a festive mood. You might have a pretty tray, like this etched table tray, elsewhere in your house. Bring it over to the dining table. If it's not a food safe tray, you can always place another plate on it if you want to serve food with it. Or, as shown here, set glasses or other dining table necessities on the tray.
The glasses shown above are like Moroccan mint tea glasses. These glasses are so colorful and festive, with dressy patterns that are perfect for holiday tables. Where can you find these? You can find them online if you Google "Moroccan tea glasses." Here are Moroccan tea glasses from Viva Terra, a set with a mix of colors:
This would be a good moment to mention that not all colors have to match exactly. A bunch of mixed colors can make a dining table feel energetic, which is great for conversation!
Recently a reader of my blog asked for advice on how to set up an India theme table, and I thought the research I did for her would also work for the holidays and making holiday dining tables feel special. Many of the example pictures were from Indian wedding websites. Which makes sense! Weddings are obviously special occasions where you don't want the dining experience to feel the way it does on most "regular ol'" days. So you can borrow ideas from weddings and other special events, like this colorful and festive scene featured at Wedding Chicks:
What makes it feel festive? It's the combination of metallics in the gold, some rhinestone bling, and the rich contrast of colors. You also see a mix of materials. There is a textile on the table, and the three plates are metal, clear glass and what appears to be colored frosted glass. The drinking glass is a colorful amber. There's a candle. And there are flowers. All these elements are things you likely would not bring out on a Wednesday night for a quick dinner before the kids have to go to soccer practice or a music lesson, right? So that's why they're good to bring out for the holidays. They are the elements that make you slow down and savor the moments.
I also really like the idea of the picture frame by the plates. If you're having family or friends over for the holidays, why not put a meaningful picture in a small frame at each place setting, that they can take with them as a gift? It's a thoughtful touch.
Patterns are another element that dress up a table. Sweet C's Designs worked with World Market to use its products and design a colorful India table that would be beautiful for holiday decorating: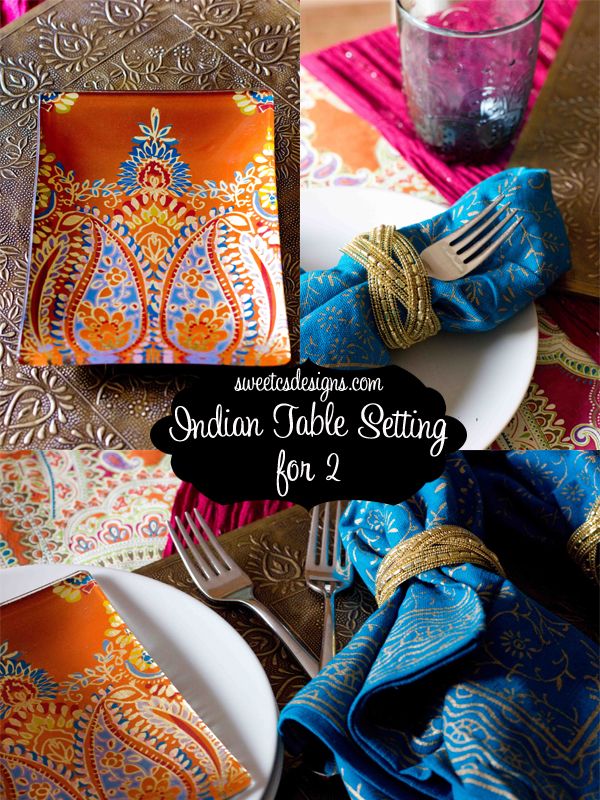 What works here? It's the lively mix of patterns, colors and some metallics that make the table feel more special than everyday meals. And maybe I'm rebellious, but I don't think holiday decorating must adhere to that holiday's colors, like red and green for Christmas. I decorated for Christmas with orange and olive last year, which is related to the bright red and pine green you typically see for Christmas, but a bit unexpected and I think it's more interesting. Your decorating colors should reflect you and your favorite colors, so you are comfortable in your own home. If red and green aren't your favorite, don't worry about it, why would you want to spend money buying decorations in a color you don't like?
As a final example of how to make a table feel special, this table by DeMarse Meetings is so rich and luscious!
The colors are a bit more toned down, but they are still very contrasty with the orange, purple, pink and green. And you can see a trend developing here in this photo and the photos above. The table is packed with different materials in layers: a textile on the table, metallic plates with patterns on them, glass, flowers, candles. I think that is the key. Layer different colors.
Layer different materials. Add some metallics. Have candles. Definitely have flowers. If you have all these elements, your table will surely be special!
More about the author
About India Pied-a-Terre/nomadic decorator

India Pied-a-Terre is a blog that celebrates India design and other worldly design inspirations. It is written by Deb Trombley where she writes about global inspired design and DIYs. You can find more information at  www.indiapiedaterre.com pinterest.com/indiapiedaterre .
©masalamommas and masalamommas.com, 2016-2017. Unauthorized use and/or duplication of this material without express and written permission from this site's author and/or owner is strictly prohibited. Links may be used, provided that full and clear credit is given to masalamommas.com and Masalamommas online magazine with appropriate and specific direction to the original content.
(Visited 307 times, 1 visits today)
---
---
---