By Indu Partha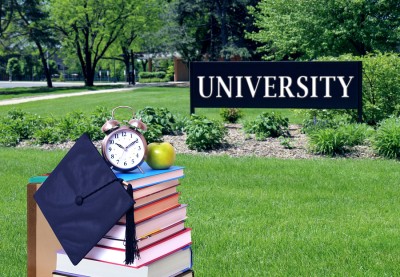 We dropped our oldest child to college a few months ago. After months of anticipation, move-in day went by in a blur. One minute we were picking out a new comforter, and the next we were saying our goodbyes near the elevators with her two (thankfully super sweet) roommates looking on. We probably behaved like any other American family, except for the mini Hindu altar we left on her desk. Nothing wrong with asking for a little divine help, is there?
Theoretically, we were ready to let her go. Like many Indian parents, we want our kids to get the finest education that they possibly can, and despite the incredulous looks and "you are crazy" comments we received when others heard about our pending tuition fees, we felt confident about our decision. She had earned her admission, and we would pay for it, just like our parents had done for us. We wanted her to experience life beyond our smallish town, and hoped she would be able to broaden her knowledge of Indian culture and develop more Indian friendships in "the big city." We will have to wait and see how, and where, she strikes the balance between her American and Indian lives.
I had imagined that our leave taking would have been fueled with philosophical words of wisdom, but the reality was more like drop off on the first day of preschool—parents rushing out before emotions ran amok. We wanted to leave with smiles and encouraging words, because we want her to know, with surety, that she is going to be amazing and have an unforgettable experience at her chosen school.
If I had had a few more minutes though, this is what I would have told her:
Be kind. Be respectful. Be responsible. This elementary school mantra will serve you well for the rest of your life.
Stay classy. When in doubt, wear a dress. Always better to be over prepared than to look like you didn't care enough to prepare at all. Dress for the job you want, not the job that you have.
There is safety in numbers. Remember your class field trips? Always stay with a buddy.
Fake it till you feel it: confident, smart, and powerful. You have a voice. Let it be heard.
Remember that song from "Annie": "The sun will come out tomorrow." It's true. There is always a chance to do it again, fix what is broken, right a wrong. Keep in mind-the world keeps turning. So should you. Even at your most discouraged, just put one foot in front of the other and keep going. The world isn't going to wait for you.
Have faith. In God. In yourself. In karma. Believing in something larger than you will help to keep life in perspective.
Give it all you've got. It's not failure if you have done your best.
Every experience has something to teach you. Take the time to learn what that lesson is.
You are never too old to say, "Please, thank you, and sorry."
Honesty is still the best policy. The world needs good people like you. Don't let the cutthroats tell you otherwise.
You are loved. If you take a quiet moment every day, you will surely feel the love, blessings, and happy thoughts we are wishing for you across the miles.
Think twice before "sharing" on social media. What you post will follow you-through new friendships, job interviews, and future jobs. Ask yourself: Will what I post today affect my ability to become the person I want to be?
One of may favorite quotes. "Promise me you'll always remember: You're braver than you believe, and stronger than you seem, and smarter than you think." –A.A. Milne
You are enough. In fact, you are more than enough. However did we get so lucky?
We love you, sweet girl. Go out and get it! We'll be here cheering you on.
You can follow Indu on Twitter @InduPartha
©masalamommas and masalamommas.com, 2016-2017. Unauthorized use and/or duplication of this material without express and written permission from this site's author and/or owner is strictly prohibited. Links may be used, provided that full and clear credit is given to masalamommas.com and Masalamommas online magazine with appropriate and specific direction to the original content.
(Visited 1,132 times, 1 visits today)
---
---
---