By Anjum Choudhry Nayyar
When I first got married,  I remember my mom and my mother-in-law already talking about 'how' we  (the family) should celebrate the first Diwali, the first Karva Chauth and the first Lohri etc.
I remember January rolled around in my first year of marriage, my mom and mother-in-law prepped me saying, 'Pehli Lohri aree hai' and me thinking, 'um, what's that?'  Growing up, my parents celebrated most occasions but Lohri wasn't one that was at the top of the list.
I learned more about it from my husband's family who had an annual Lohri gathering at their home with their entire family and all the nieces and nephews.  They gave money to all the kids, gave out moongfali (peanuts) and revari and had a huge dinner. The festival of Lohri is celebrated mainly in Northern India and is celebrated on the night before Makar Sankranti (January 14th). Lohri marks the end of winter on the last day of Paush, and beginning of Magha (around January 12 and 13), when the sun changes its course. It is associated with the worship of the sun and fire and is observed by all communities with different names, as Lohri. The Punjabi community all over the world celebrates its first festival of the year,  Lohri.  Traditionally, logs of wood are put together for a bonfire, and friends/family gather around it to sing prayers  for a good harvest in the upcoming year.
It was and is and is a very big celebration  when you have your first child, or son.  As South Asian women, I think most of us probably grew up celebrating many cultural traditions one way and learn even more when we become part of another family!
I remember my mom telling me the importance of dressing up during Lohri as a new bride, the cultural tradition of offering dry fruits, revari (a kind of sweet made of sugar and sesame seeds), roasted peanuts, Sesame revari and other foods to the fire, as well as sharing them with their family and friends gathered around the fire.
As a first-time mom 7 years ago when my daughter was born, Lohri was a very important cultural milestone in our two families, almost as big as the first birthday. It was again, when my son was born. It's a time to bless the new child, the family and hope for a wonderful year ahead.  The first Lohri for a newborn is a monumental occasion as friends and family gather to pray for the child's good health and prosperity. Some even dance together to the beat of a 'dhol' (drum).
Last year my kids and I went over to my cousin's house where outside over a fire-pit we roasted marshmallows, toasted popcorn and moongfali (peanuts) Luckily it wasn't as cold as it is this year, and we survived the bonfire-food fest! Here in Canada, our winters don't always lend themselves to a Lohri-friendly atmosphere but I think as South Asian moms, there's something to be said about exposing our kids to cultural occasions in way that's meaningful also in a way that works for our lifestyle. I've written about this balance and I still do the best I can.
This 'bonfire festival' has so much to offer both kids and adults! My daughter's face lit up when we toasted marshmallows over the fire pit and it's something she looks forward to now. You get outside, you have a family meal and  celebrate your children.
I think while many of us have busy lives, with multiple responsibilities with various environments that don't always make it easy to mark big South Asian festivals, there are ways to make it easy on us and still make it meaningful.
This week in time for Lohri, I've chosen some of my favourite things for the perfect Lohri celebration at home for those of you who are looking for some tips as moms like me juggling time, energy and work!
The Bonfire:  
No Lohri is complete without the 'fire' and Canadian Tire has a great fire pits for your Lohri night.
The Food:
It's no secret that I'm no cook so I rely on great recipes and making the perfect tabletop without a daylong prep!
President's Choice and Patak's offer some great picks that can go from fridge to table fairly easily.
Patak's Black pepper pappadums served with Sweet Mango Chutney are always a hit as an appetizer and President's Choice Naan Bread and Korma Cooking Sauce on their Blue Menus are Masalamommas favourites for a main course.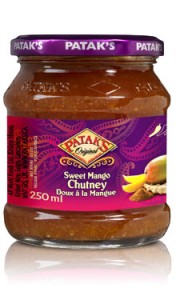 Pataks Canada  Mango chutney also pairs perfectly with that samosa or aloo tikki.
Popcorn: As mentioned, popcorn is a staple at Lohri, and making little 'Kernels Popcorn' bags/boxes for kids is a great take-home after they have some at the fire pit.
Drinks:
Make a Tea Bar! It's never an Indian occasion without Chai in any home. I love TeALCHEMY's blends as they offer something for everyone.  The Velvet touch blend is spectacular one with a  hint of chocolate, while the Cochin Chai is perfect Full bodied tea filled with South Indian masala spices, notes of cardamom and ginger.
Dessert:
Bite Bar is an all time favourite for masalamommas, we've had their bites at almost all of our events. What I love is Nisha Amin, the owner can craft any flavor you can dream of. This past Diwali she made an amazing chai bite which made the perfect tea pairing.  A great choice for any Lohri party!
Décor:
Homesense Canada is like my second home. I'm there at least once a month picking up essentials for my home and especially when cultural occasions come up, they have a great selection of table décor items for any South Asian occasion including stunning gold cushions, table cloths, placemats and frames that can be used to make a setup like this one that I loved on a blogpost about the first Lohri below:
Indigo has some great votives, candle holders and tea light accents that can help create just the right balance of lighting on your table top and in your home at Lohri time as well.
Dressing up:
I'm still a big fan of Satya Paul's amazing collaboration with Lisa Ray in her line, known as . …The 'Hope' sari is a wonderful piece to kick off Lohri with and even just start your 2014 sari collection with as well. You can learn more about her line here.
There's a lot more you can do for your Lohri celebration and I'd love to hear how you celebrate! What's your favourite Lohri party go-to item? Share your favs below!
©masalamommas and masalamommas.com, 2016-2017. Unauthorized use and/or duplication of this material without express and written permission from this site's author and/or owner is strictly prohibited. Links may be used, provided that full and clear credit is given to masalamommas.com and Masalamommas online magazine with appropriate and specific direction to the original content.
(Visited 6,202 times, 1 visits today)
---
---
---