Phoenix Rising, Hope, Faith…All Phrases that Tell a Story of Triumph
By Anjum Choudhry Nayyar
Sometimes when you meet someone you never forget the feeling you have after talking to them. Lisa Ray is one such person.   You really sense a love of life and a fire in Lisa when you meet her, that will leave its impact on you days after.  At the official launch of her limited edition line of 10 sarees by SatyaPaul Canada, I had the chance to meet and speak with model-actress and social activist, Lisa Ray.  She was there to launch her line of saris but was incredibly gracious taking time to meet with all the invited guests, chat with them, give hugs and take pics with those who asked. More importantly she was there to share her story through this incredibly stunning line of sarees.
Ray, an internationally acclaimed and award-winning actress, model, host and cancer advocate  was raised in Toronto by an Indian father and Polish mother and moved to India to launch her  career at the age of 16. In 2009, she was diagnosed with Multiple Myeloma and after two years of treatment she married Jason Dehni in California's Napa Valley. On her wedding day, Ray wore a custom-made Satya Paul georgette sari highlighted with traditional gota-patti work.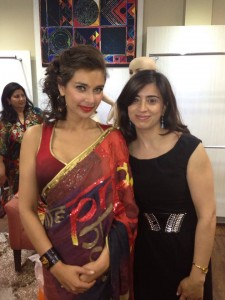 "Living with Multiple Myeloma, I have learned that the progress of the human spirit doesn't stop with obstacles and challenging circumstances. I want to share my message of victory and love with others, so I am partnering with Satya Paul to present a line of saris that capture the intimate and celebratory emotions of my wedding. The collection is also themed around universal qualities that helped me to rise above, like Phoenix Rising, Hope and Faith," said Ray.

WATCH A CLIP OF LISA AT THE LAUNCH.

[vsw id="f_wNI6gwYvs" source="youtube" width="425″ height="344″ autoplay="no"]

With the aim of sharing her experience of being a Satya Paul bride, Ray has partnered with the brand to create an exclusive range of saris for this wedding season.
"What I realize is that my wedding was not just a wedding.its was a symbol of what jumping back into life wholeheartedly means. Two years ago when I was going through my treatment, I couldn't have conceived that post treatment, post losing all my hair, post rising out of the ashes that I would meet my soul mate and get married. So distilling down what did it take to get to this place and finding these qualities: hope, phoenix rising, chant are very representative of my story."

Lisa says she's had time to  reflect on her cancer  and how to adapt to  life after receiving cancer treatment. She chronicles her journey on her  blog that she has had since receiving her diagnosis.

WATCH CLIP OF SAYTA PAUL CANADA'S TAMI ESMAIL

[vsw id="Nq103YfVQD0″ source="youtube" width="425″ height="344″ autoplay="no"]

"Lisa personifies the ideal Satya Paul woman – confident and courageous yet feminine and beautiful – both inside and out," said Tami Esmail, President of Satya Paul Canada. "Lisa's personal sense of style and fashion speaks volumes to the vibrant Satya Paul signature style."

Ray says the design process was an intensive one that took her through her life's highs and lows and took place over several conversations, skype calls over several weeks. She's extremely proud of the line of saris created.
"It was a true collaboration. Satya Paul is known for its prints and for its statements," said Ray. "They really got it. They understood what it was I was trying to capture. It's a real process of exactly how the story came to be and what exactly were the qualities that really helped me get through my difficult time." She adds she loved telling her story through fabric.

WATCH A VIDEO OF LISA RAY TALKING ABOUT THE SAREES.

[vsw id="IMIn-CElnHY" source="youtube" width="425″ height="344″ autoplay="no"]
"One of the sarees is 'Phoenix Rising' and that really just really just says it all. The saree itself is shaded from dark to light, representing the journey and the different 'shades' that we experience in our lives. But It went from just my story to a much bigger story. Faith is something that's a universal quality. It takes faith to start a new business, it takes faith to fall in love and it takes faith to get married."
The collection will be available at Satya Paul signature stores in Toronto, New Delhi, Mumbai and online at www.satyapaul.com.  A portion of the sales from this collection in Canada will benefit the Molly and David Bloom Chair in Multiple Myeloma Research at the Princess Margaret Cancer Centre. The Bloom Chair supports Multiple Myeloma research and the development of life-extending treatments for this treatable, yet incurable cancer.
.
©masalamommas and masalamommas.com, 2016-2017. Unauthorized use and/or duplication of this material without express and written permission from this site's author and/or owner is strictly prohibited. Links may be used, provided that full and clear credit is given to masalamommas.com and Masalamommas online magazine with appropriate and specific direction to the original content.
(Visited 1,536 times, 1 visits today)
---
---
---