By Nadia Shah @desiinlaws & online at: www.southasianinlaws.com

Family relationships are closely connected to culture in the South Asian community but misconceptions about In-Laws and their role can make navigating family, harder than it needs to be:
Here are my Top 8 Misconceptions About In-Laws:
1. In-laws usually interfere, criticize, and are overly involved:  Hopefully this misconception goes without saying, but many people are fearful of what to expect post marriage with in-laws. If you go in with the attitude that you're going to dislike your in-laws, you will end up disliking them (at least for a while). Think positive.
2. Your relationship with your in-laws can be absolutely perfect: Even though you should think positive, you have to be somewhat realistic as well. Perfection is impossible to achieve, but your in-law relationship can be happy, healthy, and fulfilling. Keep in mind that building and strengthening your relationship with in-laws will take time and effort: it won't happen overnight. As long as you keep trying, things will hopefully keep improving.
3. In-laws want to raise your kids for you: While you can almost guarantee that your in-laws are looking forward to being grandparents, you can rest assured that they don't want to go through the trials of raising small children again. While you may need to remind them every once in a while that you're the parent and you make the rules, you'll most likely find that they just want to have fun with your kids (and maybe spoil them a little), not discipline them. So don't be too fearful of how your in-laws will act with your little ones. Remember, kids can't have too much love.
4. Mothers-in-Law are the root of all your in-law problems: While it's true that most in-law horror stories usually surround mother-in-laws, it would be unwise to overlook the potential for issues with other family members. Challenges can arise with sisters-in-law, brothers-in-law, and fathers-in-law, among others. Rather than automatically assuming your mother-in-law is going to cause problems, the best approach is to just be aware and cautious that problems can come from anyone. The key is to identify and address them as soon as you can.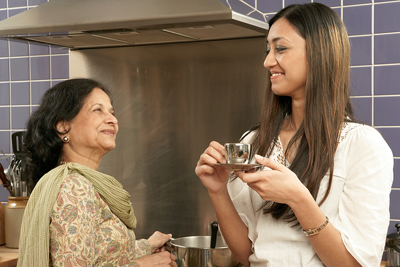 5. Both sets of in-laws have to get along for a marriage to work out: Although we want the people we love to get along and to love each other, unfortunately that doesn't always occur. As long as your parents and your in-laws can be cordial, you'll be fine. And if they can't even be cordial, then set boundaries and refuse to tolerate bad-mouthing of the other set of parents. Over time your parents and your in-laws might grow to be friends. And if they don't, you should try make sure it doesn't affect your relationship with either set of parents or your spouse.
6. "I can't live with my in-laws":  I've heard this multiple times, and it usually means "I'm scared and don't want to live with my in-laws." But if you have to live with them, trust me, you can. You may have difficulties at times, but as with any cohabitation, it takes time to adjust. Avoid using the word "can't." It only serves to put you in a negative mindset. My in-laws lived with me even though I never planned or expected it and I was fine (and in some ways it was beneficial to our relationship). You will be fine too. Go in with a can-do attitude.
7. Mother-in-laws want to continue controlling their sons: Unfortunately for some, this may be true. But for many, there is a deeper reason mother-in-laws appear to be controlling: fear of losing their sons. Moms usually spend at least 18 years raising their child, and it can be difficult for them to let go when he gets married. Try to remember that it's not typically about control but rather about fear. Think about how it might feel when you have to let go of your own son or daughter when they marry. Try to use this perspective to temper your negative feelings.
8. Only son-in-laws and daughter-in-laws are scared of their mother-in-laws and father-in-laws: Much to the surprise of many, parent-in-laws are sometimes scared too. Many want so badly to have a good relationship with their son or daughter-in-law and worry about how they'll be viewed.  Keep that in mind; the realization of this possibility will help you approach your in-laws from an empathetic perspective. Check out the following Huffington Post article where a mother-in-law feels forced to stay quiet to maintain peace, fearing that if she doesn't, she may not be able to see her grandkids. 

©masalamommas and masalamommas.com, 2016-2017. Unauthorized use and/or duplication of this material without express and written permission from this site's author and/or owner is strictly prohibited. Links may be used, provided that full and clear credit is given to masalamommas.com and Masalamommas online magazine with appropriate and specific direction to the original content.
(Visited 1,326 times, 1 visits today)
---
---
---