Five Creative Frittata Ideas for the Holidays
Frittatas are easy, fast, and customizable. We're sharing five ways to mix them up for breakfast, lunch, or dinner.
As the holidays approach, preparations begin for family visits, holiday meals and the kids being home from school with their endless appetites! Frittatas are a great meal option when it comes to a filling group meal. Cooked in a cast iron pan or oven-safe skillet, they are started on the stovetop and then finished in the oven. The fillings are cooked first and then mixed in with the eggs in the pan. A good frittata is a wholesome dish that can be served for breakfast, lunch, or dinner. They can be packed with just about anything, including leftovers. I'm sharing five different variations below.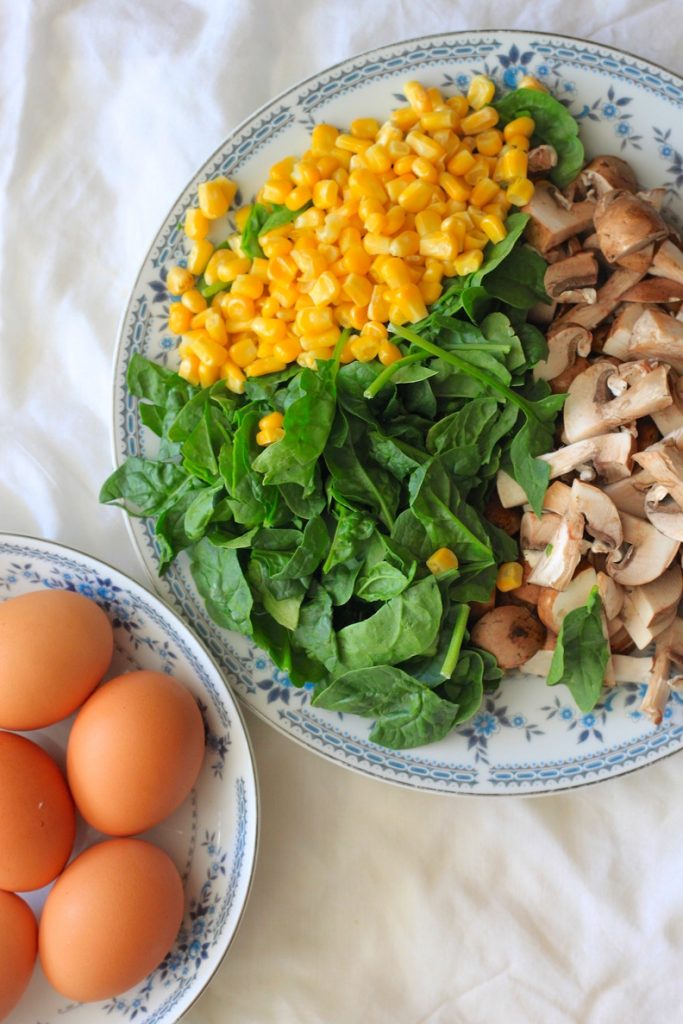 Here are a few tips to take your basic frittata to a custardy, perfectly-cooked one:
Get creative with the type of dairy you use, Whole milk, sour cream, Greek yogurt, or crème fraîche are all great options.
For every six eggs use about 1/4 cup of dairy. Be careful not to use too much dairy else the frittata will be too loose.
Heavy cast iron or oven safe pans work best, because they retain heat well and will continue to cook your frittata after you remove it from the oven.
In the frittata pictured I used spinach, corn, mushrooms and Colby jack cheese. Before serving I topped it with a dollop of sour cream and salsa.
Here are a few other variations that pack flavor while offering variety in ingredients:
Roasted potatoes, caramelized onions and goat cheese | Thinking of ways to use up last night's leftover roast potatoes? Whip up some caramelized onions, heat up the potatoes and add in a generous amount of goat cheese for a rustic and wholesome frittata.
Red bell peppers, onions and zucchini | Add a bite to your breakfast with this healthy frittata variation. This is a great combination to sneak more vegetables into your diet. Finish it with freshly chopped parsley.
Bacon, blue cheese and tomato | Salty bacon, creamy blue cheese and fresh tomatoes becomes summer on a plate. A few dashes of hot sauce for the daring will go perfectly.
Asparagus and sun-dried tomatoes | Take a few minutes at night to blanch the asparagus, all you'll have to do in the morning is cook the frittata. Crunchy asparagus and savory sun-dried tomatoes will have you craving spring with this variation.
What are your favourite Frittata combinations?
Spinach, Corn & Mushroom Frittata  
Ingredients:
2 tablespoons olive oil
2 cups mushrooms, sliced
1/4 cup corn
1 garlic cloves, diced
2 cups packed, spinach
6 eggs
1/4 cup shredded Colby jack cheese
1/4 teaspoon freshly ground pepper
1/2 teaspoon salt; adjust to taste
Method:
On medium heat, warm 1 tablespoon of the olive oil in a heavy 10-inch nonstick skillet and add the mushrooms. Cook, stirring or tossing often, until they begin to sweat and soften. Add corn, salt, pepper and the garlic, and stir together until the garlic is fragrant.
Add the spinach and stir until wilted. Turn up the heat and let any excess liquid evaporate from the pan, then remove from the heat. Taste and adjust for salt if needed.
Beat the eggs in a large bowl. Stir the milk, and the vegetable mixture. Heat the broiler.
Heat the remaining olive oil in the skillet over medium-high heat. Once hot, pour in the egg mixture. Swirl the pan to distribute the eggs and filling evenly over the surface. Tilt the pan slightly with one hand while lifting up the edges of the frittata with the spatula in your other hand, to let the eggs run underneath during the first few minutes of cooking. Cover and cook 7-8 minutes, until the eggs are just about set though (the top layer will still be wet).
Uncover the pan, sprinkle the cheese evenly and place under the broiler for 1 to 2 minutes, until the top sets, watching very carefully to make sure the top doesn't burn.
Remove from the heat and allow it to cool for at least 5 minutes.
Cut into wedges. Top with sour cream and salsa. Serve hot, warm or room temperature.
©masalamommas and masalamommas.com, 2016-2017. Unauthorized use and/or duplication of this material without express and written permission from this site's author and/or owner is strictly prohibited. Links may be used, provided that full and clear credit is given to masalamommas.com and Masalamommas online magazine with appropriate and specific direction to the original content.
(Visited 250 times, 1 visits today)
---
---
---