By: Nazima Qureshi
Turkey Time
This post has been sponsored by Canadian Turkey. As always, all opinions are mine.
As October rolls around, many people look forward to enjoying turkey with their families for Thanksgiving. Many South Asian families have also joined in on this tradition, with their own cultural additions. Turkey is a versatile protein that can be used to create a meal with a variety of different flavours and spices to suit your families preferences. Roasting a big ol' turkey is a very economical way to feed large multi-generational families, which is often the norm within the South Asian community.
So you've had your grand Thanksgiving meal and now have leftover turkey the next day. There are only so many turkey sandwiches you are left wondering what else you can do with your turkey. I'm sharing three different ways to use up cooked turkey that incorporates South Asian flavours. Two of these recipes use turkey or vegetable broth. You can use the leftover bones from the whole turkey to make your own broth or use store bought no-salt added vegetable broth.
Depending on how you flavoured your original whole turkey, you can adjust the seasoning to suit your preferences. These recipes are great for packed lunches or even family dinners.
All three of these recipes start with cooked turkey, making it a lot easier to put together in a short amount of time.
Turkey Samosas
Samosas are a favourite in South Asian households, but have you tried them with turkey? Adding a bit of broth to the turkey mixture helps keep the samosas moist and flavourful. Use large sheets to make regular sized samosas or smaller sheets for bite-sized samosas. Bake immediately or freeze so they are ready for a quick party appetizer.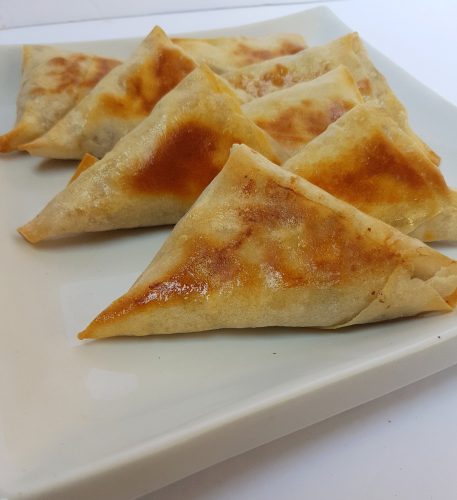 Makes: 8-10 large samosas
Ingredients:
½ onion, finely diced
1 Tbsp cilantro, finely chopped
1 cup cooked turkey, finely chopped
¼ tsp red chili powder
¼ tsp ground cumin
¼ ground coriander
2 Tbsp no salt added turkey or vegetable broth
pinch of salt (to taste)
8-10 samosa sheets
Directions:
Preheat oven to 350o In a bowl, mix together onion, cilantro, cooked turkey, spices, and vegetable broth. Taste and adjust seasoning if needed.
Put about 1 Tbsp of mixture on a samosa sheet and fold into a samosa triangle. Repeat until mixture is all used up.
Place on greased baking sheet. Bake for 15 minutes. Flip samosas on other side and bake for another 10 minutes until golden brown on both sides.
Turkey & Potato Cutlets
If you don't have a lot of turkey leftover, adding potato is a great way to stretch your ingredients and put together a full meal. Have these Turkey and Potato Cutlets on whole grain buns as burgers or on their own with a dipping sauce.
Makes: 8 cutlets
Ingredients:
5 cooked turkey, chopped
½ onion, roughly chopped
1 garlic clove
1 large potato, boiled, peeled, and chopped
¼ cup cilantro leaves
¼ tsp salt
½ tsp black pepper
½ tsp red chili powder
½ tsp ground cumin
½ tsp ground coriander
1 egg
3 Tbsp bread crumbs
Additional bread crumbs to roll cutlets in
Directions:
In a food processor, add all ingredients and pulse until thoroughly combined. Place in a bowl and keep in freeze for about 15-20 minutes, until mixture has hardened slightly and is easy to work with.
With moist hands, make burger sized patties and coat both sides with bread crumbs.
Cook cutlets on a heated pan on medium heat with 1 tsp olive oil. Cook for 5-7 minutes on each side, until golden brown.
Tandoori Turkey Ring
Tandoori flavour is a South Asian favourite. Use tandoori masala to completely change up the flavour of your turkey. The puff pastry ring is sure to get your whole family excited to dig in to this dinner.
Makes: 6-8 servings
Ingredients:
1 tsp olive oil
½ onion, finely chopped
1 garlic clove, minced
1 cup cooked turkey, chopped
2 tsp tandoori masala
1 cup broccoli, finely chopped
½ cup no salt-added turkey or vegetable broth
1 tsp corn starch
2 Tbsp water
1 sheet puff pastry, thawed
1 egg, beaten
Directions:
Heat pan on medium heat with olive oil. Add onion and cook for 2 minutes, until onion has softened. Add minced garlic and stir. Add cooked turkey and tandoori masala. Add only 1 tsp of tandoori masala if you don't want it spicy. Mix well and then add in broccoli. Pour over vegetable broth.
In a small bowl, mix together corn starch and water. Pour over turkey mixture in pan and stir until liquid thickens. Remove from heat.
Preheat oven to 350o
Unroll puff pastry sheet. Cut strip on one end, leaving about 3 inches on one side. Spoon turkey mixture onto uncut side. Stretch one end of puff pastry to cover the turkey mixture. Carefully roll over until you reach end. Bring ends together to make a circle. Stretch out slightly and place on greased baking sheet.
Brush with egg wash and bake in oven for 20 minutes, until golden brown.
©masalamommas and masalamommas.com, 2016-2017. Unauthorized use and/or duplication of this material without express and written permission from this site's author and/or owner is strictly prohibited. Links may be used, provided that full and clear credit is given to masalamommas.com and Masalamommas online magazine with appropriate and specific direction to the original content.
(Visited 224 times, 1 visits today)
---
---
---