By Dee Kapadiya, Visit Dee's instagram collection online here.
I personally feel today's era of fashion is the best. If you notice carefully, everyone is wearing whatever he/she likes. Isn't this the best way to dress? Mix contemporary pieces with traditional, old with new, up-cycle your old outfits or simply change the drape to create a new and different look. Best part is, be yourself, dress how you want to be and dance it away, if I may say!
Pastels, florals, denim on denim, stripes, off-the-shoulder tops and chokers are some of the latest trend that you will notice. South Asian Fashion always goes hand in hand with the latest trend. If you find it difficult to put together a look, here are some guidelines which you may follow to get it right.
Silhouette:
We all know fashion repeats itself. A major comeback you will be noticing in coming days is the 90's. Puff Sleeves, Front Button Up skirts, Pattern on Pattern, Mermaid Skirts/Lehengas to name a few.
If you are looking to buy a classic style that will give more mileage to your outfits, then go for puff sleeves and mermaid skirts/lehengas. These are here to stay long.
Here are some examples to show you.
For Contemporary Style lovers, off the shoulder and flared sleeves are the best trend to get your hands on. Gathered lengha/skirts add a beautiful detail to you outfit. Here are some examples.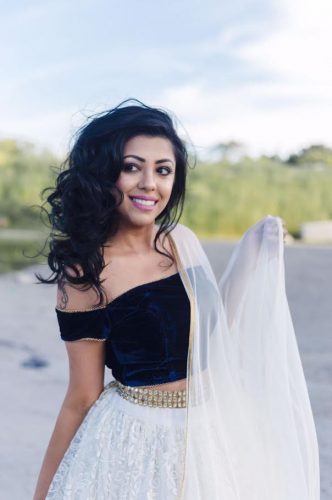 Colour:
Green is officially the colour of the year 2017. A fresh and zesty yellow green shade that symbolizes the reconnection we seek with nature, one another and a larger purpose amid a complex social and political landscape. Image below shows KERANI lehenga skirt in Green paired with ZURI silk top with parrot motifs adding some fun element to the outfit.
Pistachio green, pale green, mint green, are some of the shades you may look for. Image below shows NAVYA Pistachio green top paired with KARA high waisted lengha skirt in textured gold fabric.
For classic colours, go for deep grey, deep blue and wine this season.
One of the biggest trends in colour is candy pastels and monochromatic colour schemes.
Here is a very good example that showcases KYRA a candy pink colour lengha set in a monochromatic colour scheme.
Textiles:
For classic style lovers, Banarasi saree and fabrics have made a huge come back. Be it a Banarasi saree, suit or lengha or just a Banarasi dupatta paired with plain silk suit. Plain silk sarees in beautiful rich hue paired with fancy blouses. Bring out your moms silk sarees and try out different drapes to give it a new twist. Below is an example of banarasi silk anarkali in rich grey and matt gold hues.
For contemporary style lovers, go for a 3D floral, scuba, organza, satin silk or silk taffeta this season.
3D floral gowns or lenghas are beautiful to look at, add surface value and look elegant. For all the brides out there thinking of a floral theme, you can't go wrong with 3D florals this season. You don't need much accessorizing when your outfit speaks for itself. Great example is the KYRA lehenga set in candy pink shown earlier. A simpler look ARIA Orange 3D floral lengha set.
Silk taffeta are best used for more structured looking silhouettes. Make it plain if you need something simple or get it embroidered for a more lavish looking outfit.
Personally, I love to play around with different silhouettes, textiles, and colours to create new looks. One of my favourite detail that I have added to all my contemporary lehenga/skirt is pockets. I proudly call them cell phone pockets. Pockets are no longer just men's thing after all.
Finally, South Asian Fashion is no longer limited to just few colours and few fabrics. Feel free to come out of your comfort zone and try new silhouettes and colours. But most importantly BE YOURSELF and wear what you fall in love with, regardless of what's trending AND SIMPLY ROCK IT!!
©masalamommas and masalamommas.com, 2016-2017. Unauthorized use and/or duplication of this material without express and written permission from this site's author and/or owner is strictly prohibited. Links may be used, provided that full and clear credit is given to masalamommas.com and Masalamommas online magazine with appropriate and specific direction to the original content.
(Visited 145 times, 1 visits today)
---
---
---