By Renu Jain Chandarana
This past summer was my first time cracking open an ice cream making attachment that was given to me as a birthday present many years ago. It is a large bowl that you place in the freezer and then when you're ready to churn, it attaches to a stand mixer and churns using the rotation of a bowl scraper that acts like a mixing paddle.
The trouble was that I never had any room in the freezer to keep this large bowl, yet I yearned to churn! So I pulled it out, Googled a recipe and made ice cream. It was divine. I will definitely use the attachment again, but on days when I need something in the evening that requires little effort, I love making Kulfi, which is like an Indian semi-freddo. It's such a simple way to make a frozen dessert because it requires few ingredients, and a plethora of flavour options like pistachio, rose water, orange blossom, or mango.
Growing up, I remember secretly comparing all the Kulfis from different aunties' homes and knowing whose was best!
Or knowing that any recipe that called for cool whip or evaporated milk just wasn't authentic to me. I loved how my mom used whipped cream or half and half, added drops of a floral essence like rose or kevda, and sprinkled nuts on top (not ground into the mixture) therefore creating a smooth mouth full of flavour.
Tropical Asian flavours are one of six flavour trends for this year, according to McCormick's 2016 Flavour Forecast. This trend is all about embracing new flavours to satisfy adventurous palates.
This recipe fuses tropical mango, cardamom and vanilla to create a unique twist on the famous South Asian frozen dessert Kulfi. Depending on how many steps you'd like to take on, or your texture preference, this Kulfi can be instantly transformed into a soft serve ice cream or milkshake! It's not overly sweet and can be customized to whatever you have in your pantry.
MANGO KULFI/ICE CREAM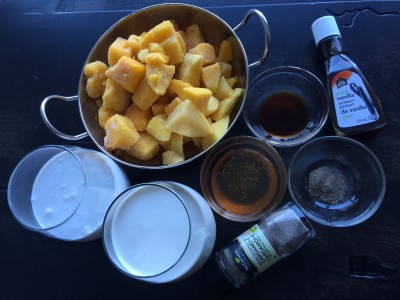 Ingredients:
4cups                      frozen mango chunks
1 (400ml) can       Thai Kitchen Coconut Milk (including the water in the can)
½ litre                    Whipped cream (473mL or 500mL carton is perfect)
3 Tbsp                     Billy Bee Honey (or liquid sweetener of choice)
2 tsp                        Club House Pure Vanilla Extract
¼-½ tsp                McCormick Gourmet Ground Cardamom
METHOD:
Place the mango chunks, coconut milk, honey, vanilla and ground cardamom in a blender or food processor.
Blitz the ingredients until you get a smooth milkshake like consistency.
Add in the whipped cream and slowly blend until all is well combined and uniform.
Taste – adjust sweetness or spice level, some mangos can be really tart and you might need to up the sweetness!
At this point, this Kulfi mixture tastes great as a milkshake and you can just drink it straight with a straw!
To make frozen Kulfi, pour the mixture into silicon ice cube trays and/or line a loaf pan with plastic cling wrap and pour in mixture leaving a few inches from the top.
Cover with plastic cling wrap and freeze for at least 6 hours or overnight.
To create a soft serve ice cream, pop out a few cubes of the Kulfi and put in the blender or food processor.
Blitz at least 30 seconds to 1 minute. At first, the mixture looks very crumbly, but it will all even out and get smooth.
Scoop out into bowls or cones. Drizzle with honey (or liquid sweetener of choice) on top, if preferred, and serve immediately.
To enjoy this as Kulfi, let the ice cubes or the loaf pan sit out for at least 15 minutes so they become soft enough to either cut through with a fork or slice with a knife dipped in hot water.
Alternatively, you can run warm water over the bottom side of the loaf pan and invert the whole pan on to a plate, slicing the Kulfi with a sharp knife dipped in hot water.
Serve with sprinkled nuts or a drizzle of honey (or liquid sweetener of choice) on top.
©masalamommas and masalamommas.com, 2016-2017. Unauthorized use and/or duplication of this material without express and written permission from this site's author and/or owner is strictly prohibited. Links may be used, provided that full and clear credit is given to masalamommas.com and Masalamommas online magazine with appropriate and specific direction to the original content.
(Visited 589 times, 1 visits today)
---
---
---