Rice & Quinoa (Indian-Chinese) with Sweet and Tangy Tamarind Sauce
By Renu Jain Chandarana
Indian-Chinese food is exactly what you might think it is – a mix of zesty, tangy and deep savoury. This recipe reminds me of a mash-up of my two of my favourite dishes: Hakka Noodles (Indian-Chinese chow mein with vegetables and black pepper) and the Chinese fried rice from the mall food court with a side of sweet and sour sauce on top. The latter, while so delicious, is really not too healthy and is overly salty and sweet and missing the spice and tang our palette so desires.
I created this dish on a day when I had a deep craving for Chinese take out but just didn't have the wherewithal to find a menu and order it.
I had a leftover bowl full of quinoa mixed with basmati rice from the night before and fridge full of colourful vegetables, and so was born this beautiful assimilation of spice and tang. It's always great to have a recipe in your back pocket that can re-purpose leftover rice or quinoa in a way that makes it brand new.
But what about that sweet and sour sauce that I love to put on my fried rice? This ingredient pairing is part of McCormick's 2016 Flavour Forecast, showcasing heat and tang as a trend to watch. Well, in Indian cooking, we use sweet and sour tamarind sauce as a dipping sauce for many things like samosas and pakoras (fried dumplings made with chickpea flour). Why not put the two together?
The main spices in this dish are black pepper and cayenne pepper. McCormick Gourmet cayenne pepper is so great to use because it is a coarser grind than some other cayenne spice powders and I felt like a little went a long way to give the dish a kick.  When you don't need to use heaping spoonfuls to get the result you want, that's when you know the herb or spice you're using is quality.
Club House ground black pepper is a staple for any cooking, but in this dish, it is pronounced and gives a warmth to your body without burning your mouth. When the cayenne and black pepper are paired with ginger, garlic, green onion, cilantro, soya sauce and vinegar, you get the perfect balance of everything. It's harmonious!
Indian Chinese Style Fried Rice & Quinoa with Sweet and Tangy Tamarind Sauce
Recipe:
Ingredients:
3 Tbsp          Grapeseed or Canola Oil
2 inches        Fresh Ginger finely grated
1 clove          Garlic minced
4 cups           Cooked Rice mixed with Quinoa (I mix 1 cup rice with ¾ cup quinoa and cook in the rice cooker, this yields 4 cups in my cooker)
1 cup             Fresh or Frozen Mixed Vegetables (peas, corn, carrots, green beans)
1 cup             Orange Bell Pepper chopped finely
1 cup             Purple Cabbage chopped finely
1 tsp              Club House Ground Black Pepper
¼ tsp            McCormick Gourmet Cayenne Pepper
3 Tbsp           Soya Sauce
2 Tbsp           White Vinegar
¼ cup           Chopped cilantro (garnish)
¼ cup           Chopped green onion (garnish)
Tamarind Sauce: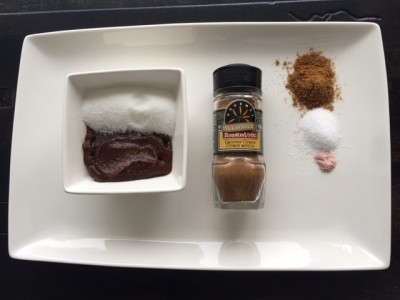 2 Tbsp            Tamarind Pulp – seedless
2 Tbsp            Granulated sugar
3 Tbsp           Hot Water
1tsp                McCormick Gourmet Roasted Ground Cumin
½ tsp              Salt to taste
¼ tsp              Black Salt (a.k.a. Kala Namak in Hindi)
METHOD FOR THE FRIED RICE WITH QUINOA:
Place a large wok on high heat on the stove.
Add the oil and let heat for a few seconds
Add the ginger and the garlic. Let sizzle for a few seconds, stirring around so they don't burn.
Lower the heat to medium-high and add the cooked rice mixed with quinoa.
Gently stir so as to not break any of the rice grains. I use the folding technique to stir and I use a large plastic spoon that can scrape the side of the wok and move the rice mixture gently without crushing anything.
Let the rice and quinoa warm through on the wok and get coated with the ginger and garlic.
Add the vegetables and again, gently fold through to heat the veggies.
Add the cayenne and black pepper, as well as the soya sauce and vinegar.
Fold again gently letting the mixture stand for a few seconds to get heated through the bottom
Add half of the cilantro and green onion – reserving the rest for the top. Once everything has been integrated, sprinkle the remaining cilantro and green onions on top and serve immediately – hot! (Note, this does taste great as a cold salad too)
FOR THE TAMARIND SAUCE:
Stir all the ingredients together in a bowl with a spoon until the sugar has dissolved.
A global leader in flavour, McCormick & Company has been helping people create memorable food experiences for more than 125 years. Which Flavour Forecast trends are you looking forward to trying out in your kitchen?
This post was done in partnership with McCormick & Company.
©masalamommas and masalamommas.com, 2016-2017. Unauthorized use and/or duplication of this material without express and written permission from this site's author and/or owner is strictly prohibited. Links may be used, provided that full and clear credit is given to masalamommas.com and Masalamommas online magazine with appropriate and specific direction to the original content.
(Visited 976 times, 1 visits today)
---
---
---