By Aarti Chandnani
Summer vacation is in full swing and this means that kids want to play 24/7. Unfortunately in today's technology loving world, kids are glued to the screen most of the time. I don't know about your kids but the minute I tell my kids "pad time is up!" they respond back with "I'm bored", "what can I do now"?
It seems like to me I am always looking for some new activities the kids can do and it's a bonus if they will learn something new while doing it! Summer is a great time for kids to learn at least one new thing – how about learning to talk in Hindi? Speak to the kids as much as you can in Hindi, sing songs and play games!
Today I am sharing with you some of the simple board games that you can print from the website and play with your kids! Kids love board games and it's even better if you can sit down with them and play! I am sure they will have fun and you will feel good about teaching your kids a few new things!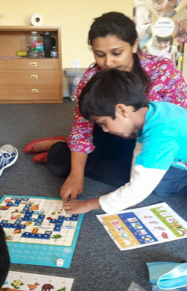 The first game here is the Picnic Game. 2 or more players can play this game. Simply roll the dice and say what the game asks you say. The catch? You have to speak in Hindi! If you cannot, then you skip a turn. The person to reach the end first wins!
The game aims at encouraging kids to speak Hindi, learn new vocabulary and get confidence in speaking in a different language! Download Game PDF from:www.hindigym.com
Are your kids comfortable with speaking in Hindi? Great – here is another game that helps kids practice their Vyakran (Grammar). I call this the Verb or Adjective Game. You can download the Rules of the game from here: www.hindigym.com/uploads/1/7/2/1/17217728/rules_to_the_game-1.pdf
You can print out the game for playing from this link:
http://www.hindigym.com/uploads/1/7/2/1/17217728/adj&verbgame.pdf
Here's to continuing the language journey over the summer with kids, consistency is key.
I hope these resources are useful to you. Enjoy your summer with your little ones and until next time – Lage Raho!
Hindi Gym will be a regular part of our culture section as we at masalamommas.com bring more resources on teaching your kids about Hindi and South Asian cultural occasions. Stay tuned right here for more from HindiGym!
Missed any of our previous Hindi tips?
Check out:
Teaching Kids to Count in Hindi
Teach Kids about the Weather in Hindi
Teaching Word Opposites in Hindi
©masalamommas and masalamommas.com, 2016-2017. Unauthorized use and/or duplication of this material without express and written permission from this site's author and/or owner is strictly prohibited. Links may be used, provided that full and clear credit is given to masalamommas.com and Masalamommas online magazine with appropriate and specific direction to the original content.
(Visited 5,931 times, 7 visits today)
---
---
---