Sponsored by: Always and PGEverydayCA
We've all been told that after pregnancy, something happens. Suddenly our bodies aren't the same. As much as we hear the constant pressure to get our 'pre-mom' look back and those miraculous ways to do so, there's one thing we as women aren't sharing with each other. Many of us are even too embarrassed to bring it up with our doctors.
If you're wetting your pants even a little when you laugh, sneeze, or work out, it's likely a secret you are hiding.
Having a sensitive bladder is a fact of life. One in three women, ages 18-75, experience bladder leaks when they're dancing, laughing, exercising or just going about their daily lives [ii]. In women over 40, it affects more than 40 percent [iii].
"Indeed this is a common condition and most are surprised to hear that as many as one in three women after age 18 can be impacted by a sensitive bladder," says Dr. Marla Shapiro (MDCM CCFP MHSc FRCP(C), Family Physician). "There are many reasons as to why it is common, ranging from pregnancy, menopause, overweight and obesity, as well as specific disease conditions such as diabetes. Other factors that can impact a sensitive bladder include bladder irritants such as caffeine, alcohol and smoking as well as carbonated drinks and certain medications."
Dr. Shapiro on what we need to know as moms:
Pregnancy can impact the muscles of the pelvic floor which are important for the bladder. During pregnancy and labor, the pelvic floor muscles can stretch out. "A weakened pelvic floor affects your bladder control. Factors that may also add to the risk of developing urinary incontinence include having your first baby, as well as delivering a large baby or having a long labor or a difficult vaginal delivery. So, indeed it is possible that any pregnancy can impact bladder health," says Shapiro.
30 percent of women say their sensitive bladder impacts their relationship with their partner and one in four admits it influences their sex life, according to an Always Discreet global survey recently published in the British Journal of Urology (BJUI) online [iv]. Having a sensitive bladder also limits almost one in three women's ability to visit their friends and over a third of women say the threat of bladder leaks affects their ability to travel.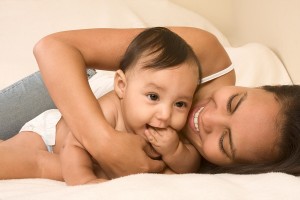 There is also a link between bladder problems and emotional health. In a Canadian study on women with urinary incontinence, 52 percent under the age of 55 experience some anxiety, while 45 percent experience anxiety because they think they smell like urine. As many as 6 in 10 women who suffer from urinary incontinence also feel like they are living with a secret.
We know that sensitive bladders impact sleep, intimacy and daily activities and that many women feel their bladder leaks impact their work or daily activities such as exercise and socializing. As such, it is important to identify underlying causes of adult incontinence.
What questions should women be asking their doctor when they are trying to determine the cause or diagnosis?

It is helpful to keep a log documenting frequency of events to help identify any triggers. Letting your doctor know if you ever leak when you cough, laugh, sneeze, etc.
Be aware if you ever have urgency, meaning you leak on the way to the bathroom. On average it takes women as long as six and a half years to be diagnosed and only 11 percent of women use the right product specifically designed for incontinence. Having the right protection can make a big difference, such as the new line of Always Discreet liners, pads and pants. They absorb both leaks and odours in seconds for discreet protection. As women, we need to end the silence and partner with our health care professionals to seek the appropriate management strategies.
Always Discreet is on a mission to let women know that having a sensitive bladder can feel like no big deal and to encourage an open dialogue. On the new Always Discreet website, women can learn more about sensitive bladder issues and how to manage them comfortably and confidently. The site offers tips, facts, and articles written by experts on fitness, health and aging topics. For women who aren't quite ready to talk openly, it features an anonymous forum for women to ask experts questions and connect with other women. It also offers a selector tool to help women choose the Always Discreet product that best suits their needs and lifestyles.
Always has provided protection for changing feminine care needs for more than 30 years. With Always Discreet, the brand continues to support women in all phases of their lives with the extraordinary comfort and protection they've come to expect from Always.
For more information visit: www.alwaysdiscreet.com/questions-and-answers-about-incontinence-in-women
©masalamommas and masalamommas.com, 2016-2017. Unauthorized use and/or duplication of this material without express and written permission from this site's author and/or owner is strictly prohibited. Links may be used, provided that full and clear credit is given to masalamommas.com and Masalamommas online magazine with appropriate and specific direction to the original content.
(Visited 259 times, 1 visits today)
---
---
---