By Rinku Bhattacharya @wchestermasala
A soft and comforting chicken curry, made with a nice soothing assortment of spices finished with a creamy swirl of yogurt and cashew nuts. It is practical and simple enough for your weeknight dinner and works well however for a party since this recipe expands beautifully.
Prep Time: 30 minutes
Cook Time: 30 minutes
Serves 4 to 6
Ingredients:
For the spice paste
1 inch piece of peeled fresh ginger
4 pods of garlic
2 dried red chilies
2 teaspoons coriander seeds
1 and ½ teaspoons cumin seeds
1/3 cup water
For the cashew nut paste
½ cup raw un-roasted cashew nuts
3 tablespoons low fat yogurt
For the chicken curry
2 pounds of boneless skinless chicken thighs
4 tablespoons of grape seed or canola oil
1 large red onion, finely chopped (can be done in a food processor)
3-4 green cardamoms
1-2 sticks cinnamon
2-3 bay leaves
4 cloves
1 teaspoon turmeric
3 tomatoes, pureed (can be whole canned tomatoes)
1 green chili, minced (optional)
2 tablespoons cilantro
Method of Preparation
1. Place the ginger, garlic, dried red chilies, coriander and cumin in the blender.
2. Pour in the water and pulse a few times and finally grind to a smooth paste. To get a good uniform result, you will need to stop the blender a few times and push the ingredients back with a spoon.
3. Rub the paste onto to the chicken as let it rest while you prepare the remainder of the dish.
4. Place the cashews and the yogurt into the blender and grind into a smooth paste.
5. Heat the oil on medium heat and add in the onions and cook for 3-4 minutes until the onions begin to turn golden.
6. Add in the cardamom, bay leaves, cinnamon and the cloves and cook for a few seconds.
7. Add in the chicken with the spice paste and the turmeric sauté well for 6 to 7 minutes.
8. Add in the tomatoes and bring the chicken to a comforting simmer and cook for 10 minutes.
9. Stir in the cashew yogurt mixture and simmer for 3 minutes, you should have a soft chicken curry that is thick and golden yellow in color. It is comforting and works well with rice.
This article was originally posted here:  www.cookinginwestchester.com
More About Rinku: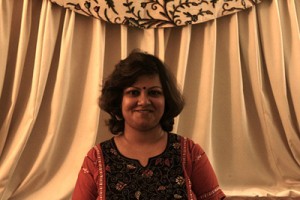 Rinku Bhattacharya, is a teacher of Indian Cooking and the author of the blog, Cooking in Westchester.  Rinku and her family are very committed to a sustainable lifestyle, and she uses mostly local produce for her recipes. She is joined in this effort by her husband who is an avid gardener and her children, Deepta and Aadi. To follow the blog and keep up with the seasons in her garden, you can follow her facebook page.
©masalamommas and masalamommas.com, 2016-2017. Unauthorized use and/or duplication of this material without express and written permission from this site's author and/or owner is strictly prohibited. Links may be used, provided that full and clear credit is given to masalamommas.com and Masalamommas online magazine with appropriate and specific direction to the original content.
(Visited 3,718 times, 1 visits today)
---
---
---