By Anjum Choudhry Nayyar
Our series on South Asian moms who have taken an idea and ran with it! Big or small, we're featuring them all. Send us your story or a story about someone you know who should be featured here to: editor@masalamommas.com.
Reshma Mathur
Being a mom with a business founded by you, and run by you among all the daily parenting duties is never easy. But some moms like Reshma Mathur have mastered the art of balance and work ethic very successfully. As the owner of her online business that specializes in stainless steel snack, lunch and storage containers, running orkids.ca is definitely a juggle. But her passion overrides any fatigue she may get at the end of the day and our recent interview with her shows exactly that. She's our latest mompreneur profile in our series on 'mompreneurs'.
 When did  you launch orkids?
I launched orkids a year ago, in August 2011. After the birth of my son in 2007, like so many other parents, I started making conscientious decisions about the products that I used around him. I soon found myself turning to alternatives to plastics in order to reduce the chemicals he was exposed to. After my daughter was born in 2010, and with growing concerns about BPA and phthalates, I was sold on stainless steel products. Today, more and more parents are making environmentally friendly choices — not only for the benefit of their children, but for the benefit of our earth.
Creating this company is my way of doing a small part for a safer and healthier lifestyle. All of our products are made of high quality, food grade stainless steel, are BPA and phthalate free, recyclable, reusable, and are good for the environment…and us too!  The name orkids is a bit of a play on words — "orchids", my favourite flowers, and the word "kids". Orchids, like our own kids, are delicate yet strong, but at the same time require a great deal of tender loving care to thrive.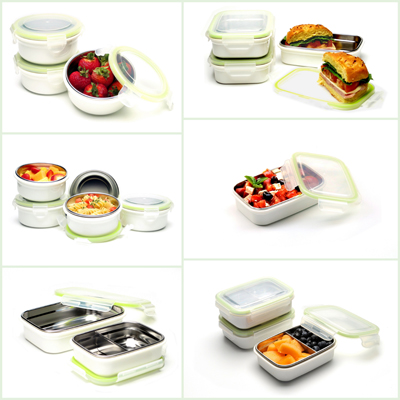 What inspired you to start your business?
While I grew up in Canada, my husband grew up in India, where stainless steel is a mainstay in every home. Plates, glasses, cutlery, and the ubiquitous tiffins are all commonplace there. On a trip to India a few years ago, I decided to purchase two stainless steel containers to transport my son's snacks while on the go. Five years later, I'm still using the same stainless steel containers, except now for my younger daughter. The idea for selling stainless steel containers actually came from my son's montessori teacher. One day while picking him up from school, my son's teacher commented on how the staff was admiring my son's snack container that I had sent with him. When I told her it was bought on a trip to India, she suggested that I should sell them here as a healthy, reusable alternative to plastic. And low and behold, orkids was born!
What has been the most challenging part of starting your own business?
I think I've learned a lot about working with different suppliers. There are some challenges to working with companies overseas, but I've certainly learned the importance of building relationships with your suppliers.  I've also learned so much about social media – Facebook and Twitter. The power of online marketing and building a business "virtually" has been such an eye opener for me. It's so fascinating, and there is just so much potential. It's not as easy as one would think though! You really have to work hard to build a business and relationships online.
What is the most satisfying part?
Being able to work from home, at my convenience and around my kids' schedules! And of course, most importantly, hearing positive feedback from customers. It makes my day when someone lets me know that they are enjoying using one of our products.
How do you juggle being a mom and being a mompreneur?
I don't think I really do! Sometimes I feel like I'm always trying to do two things at once – sending an email while my daughter plays under my desk. As the kids get older though, it does become a bit easier, as they're off to school, and able to keep themselves occupied for longer periods of time. They also understand that when I'm at my desk, I'm trying to work!
What do you think prevents South Asian moms from striking out on their own in business?
The risk factor. We hear this often from women, and South Asians in particular. I think women are inherently cautious, and don't want to invest large amounts of money into a new venture. That's one of the reasons why I started an online business – the risk is minimal, and the rewards so great.
Have you faced any criticism for working away from home?
Not at all. My husband and family are really supportive. I'm really fortunate that my parents and in-laws have always been behind me and are always encouraging me to pursue my ideas (some better than others!).
Do you find you compete in your industry with your male counterparts?
I don't think so. I think mompreneurs and women entrepreneurs haven proven to be so successful. Mompreneurs really tend to band together and support one another. It's a positive, inspiring network of powerful women. I think it's been a pivotal part of my building my business. I've met and encountered some remarkable mompreneurs since starting my business. I know personally, I really like the concept of supporting fellow mompreneurs. Their creativity and ideas are so innovative — and practical!
What advice can you offer moms like you looking to start their own businesses?
Go for it. Give it a try, otherwise you'll always wonder 'what if'. Competition can be really tough, and there are some days when you wonder whether it's really worth your efforts. There's always someone else out there who is bigger than you. But keep going, and be flexible and open to change and new ideas along the way. You'll face more challenges than rewards, but the positives of running your own business usually tend to outweigh the negatives!
You can follow Reshma on twitter @orkidscanada and online at orkids.ca
Related Posts via Categories